About Anagnost Companies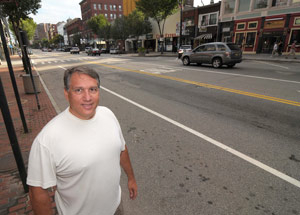 The Anagnost Companies is considered one of the most successful businesses in New Hampshire. Spearheaded by Dick Anagnost, it has always been his commitment to the community and his willingness to take chances which have made this company succeed.
Beginning in the late 1970's, Dick Anagnost grew a small real estate brokerage firm into a private investment firm and real estate development company. Early on, Anagnost saw the importance of the revitalization of the historic downtown Manchester, New Hampshire and partnered with the City of Manchester in the rehabilitation of key properties on Elm Street such as the Chase Block, Bond Building, Dunlap Building, and McQuades Building along with several properties in the Millyard.
Since then the Anagnost Companies has successfully developed more than 2.2 million square feet of commercial real estate space in New Hampshire and today employs over 1000 people through the various businesses and investments he manages.
Photo courtesy of Jodie Andruskevich/NHBR
©2011 Anagnost Companies : All Rights Reserved.