Community Outreach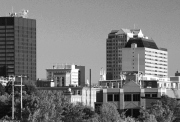 When it comes to community, involvement, charitable giving and support of non-profits, very few would know the magnitude of the Anagnost Companies generosity.
Dick Anagnost works tirelessly for his family and his community. He is heavily involved in his faith as a Board Member at the St. George Greek Orthodox Cathedral, and as the father of three young boys, he finds time to serve as coach for his sons' sports teams. Anagnost has a deep rooted commitment to community through his involvement in Veterans Count, The Boys and Girls Club, Families in Transition, and the WZID Christmas for Kids Radiothon. Anagnost was also instrumental in moving the concept of a World War II monument to reality in Veterans Park, and can often be found volunteering at the lamb barbeque pit at the Glendi festival.
©2011 Anagnost Companies : All Rights Reserved.